Bhutan Travel Guide
Bhutan Tourism Policy
Bhutan's tourism industry is founded on the principle of sustainability, meaning tourism must be environmentally and ecologically friendly, socially and culturally acceptable and economically viable. Towards achieving this objective, the Royal Government of Bhutan, since inception of tourism in the year 1974, has adopted a very cautious approach towards growth and development of tourism industry in the country.  In order to minimize the problems, the number of tourists has been maintained at a manageable level and this control on number is exercised through a policy of government regulated tourist tariff.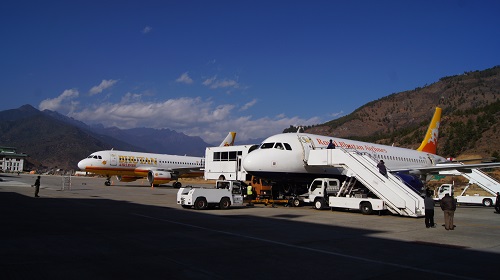 The Royal Government of Bhutan recognizes that tourism is a world-wide phenomenon and an important means of achieving socio-economic development particularly for a developing country like Bhutan. It also recognizes that tourism, in affording the opportunity to travel, can help in promoting understanding among people and building closer ties of friendship based on appreciation and respect for different cultures and lifestyles.
Bhutan's consistent tourism policy of high value, low impact has helped the kingdom ensure its rich living culture. The Kingdom represents a mystical destination left for those seeking a journey back into time. Visitors walk into rich and vibrant culture still living in the dances and folk sons, festivals and legends, the art and architecture, all in pristine natural setting of majestic mountains and lush valleys.
Organized Tours
As per Royal Government of Bhutan tourism policy, all tours to the country are in form of pre-planned, pre-paid guides package tours for which tariff is set by Tourism Council of Bhutan which includes services of accommodation, surface transport, guide, meals, entrances, Government royalty & taxes. Supplement price is applicable for Deluxe and luxury hotels. Independent travel is not possible and all tours need to be booked in advance through local Bhutanese tour operators who take care of all land arrangement including visa. There is no restriction on number of persons travelling and even single person is welcomed. Indian, Bangladeshis and Maldives nationals are exempted from this organized guided tours policy.

Visa
Except Indians, Bangladeshis and Maldives nationals,  all other nationalities require visa for Bhutan. In order to process Bhutan visa, we require clear readable colour copy of passport (page containing passport no. and face picture in JPEG or PDF format) at least 30 days prior to date of entry into Bhutan. Remaining validity of passport should be at least 6 months from the date of entry into Bhutan (excluding the travelling month). Tourism Council of Bhutan issues visa clearance letter closer to travelling date which we email you or your local travel agent. Travellers are required to produce aforesaid visa clearance copy at the time of check-in for Bhutan flight while those entering Bhutan by surface via Phuentsholing or Samdrup Jonkhar, they are required to produce this Visa Clearance letter at the Immigration counter. Actual visa is stamped at passport on arrival in Bhutan. Visa fee is US$ 40 and payable along with tour cost.

Accessibility
Bhutan's National Air Carrier, Druk Air operates regular flights to / from Delhi, Kolkatta, Bagdogra, Guwahati, Gaya, Mumbai (India), Bangkok (Thailand), Kathmandu (Nepal), Dhaka (Bangladesh) and Singapore. For detailed information about airline schedule & tariff, please refer to its website www.drukair.com.bt. From 10th Oct, 2013, other local carrier, Bhutan Airlines (www.bhutanairlines.bt) began its commercial flight operation on Paro – Bangkok sector and now this airline operates regular flights on Kolkatta, Bangkok, Kathmandu and Delhi sectors.
Entry / Exit to Bhutan is also possible by surface through Phuentsholing and Samdrup Jongkhar. Bagdogra airport, in the state of West Bengal (India) is the convenient Indian airport, approximate 165 km (4.1/2 hour drive) from Phuentsholing while Samdrup Jongkhar is about 110 km and 3 hours drive from Guwahati airport, Assam (India). 

Accommodation
Situated conveniently in the heart of city or around spectacular landscape, hotels in Bhutan  maintain Government prescribed standard and offer reasonably decent, clean, comfortable accommodation and delicious food. Almost all the hotels available in country  are built in traditional Bhutanese architecture coupled with modern comfort.  Hotels in Western & Central Bhutan (Thimphu, Paro, Punakha, Wangduephodrang, Bumthang) and Southern town of Phuentsholing are of reasonably superior standard and adequate in quantity however now in Eastern part of the country also, hotel infrastructure is gradually improving in quality as well as quantity. Over the past years,  few international & local opulent hotel chains have also established  luxury and deluxe hotels & resorts in major towns & countryside in Bhutan. These hotels and resorts appropriately maintain international standard of comfort and luxury absolutely blended with local Bhutanese art, culture and tradition.

Transport
Comfortable surface transport available in Bhutan, making journey in this mountaineous terrain really pleasant. Latest Toyota & Hyundai buses and SUVs are offered to our tourists depending upon group size. Our experienced, courteous drivers are well trained and licensed by Department of Motor Vehicles in safety and driving on mountaineous terrain.
Bhutan's motorable roads are well maintained however the mountainous terrain and winding road restrict the average driving speed of vehicle to about 35 km per hour.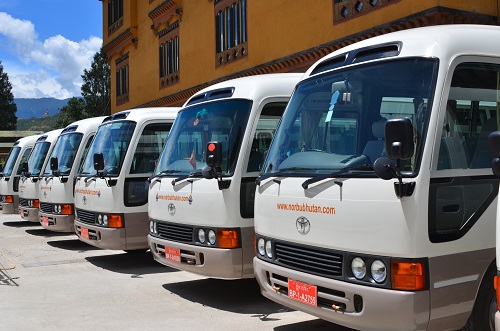 | | | | |
| --- | --- | --- | --- |
| From | To | Distance (Km) | Driving Time |
| Paro | Thimphu | 55 km | 1.1/2 hour |
| Paro | Haa | 70 km | 3 hours |
| Thimphu | Phuentsholing | 180 km | 6 hours |
| Thimphu | Wangduephodrang | 77 km | 3 hours |
| Thimphu | Punakha | 75 km | 3 hours |
| Punakha | Wangduephodrang | 19 km | 30 min |
| Punakha | Gangtey (Phobjikha) | 85 km | 3 hours |
| Gangtey (Phobjikha) | Trongsa | 85 km | 3 hours |
| Wangduephodrang | Trongsa | 135 km | 5 hours |
| Trongsa | Bumthang | 68 km | 3 hours |
| Bumthang | Mongar | 198 km | 7 hours |
| Mongar | Lhuentse | 76 km | 3 hours |
| Mongar | Trashigang | 91 km | 3 hours |
| Trashigang | Chorten Kora | 52 km | 2 hours |
| Trashigang | Samdrup Jongkhar | 180 km | 7 hours |
| Samdrup Jongkhar | Guwahati (Assam, India) | 110 km | 3 hours |
| Samdrup Jongkhar | Phuentsholing (via India) | 400 km | 10 hours |
| Phuentsholing | Bagdogra (West Benal, India) | 165 km | 5 hours |
| Phuentsholing | Siliguri (West Bengal, India) | 155 km | 4 hours |
| Phuentsholing | Darjeeling (West Bengal, India) | 200 km | 6 hours |
| Phuenthsoling | Kalimpong (West Bangal, India) | 185 km | 5 hours |
| Phuentsholing | Gangtok (Sikkim, India) | 220 km | 7 hours |
| Phuentsholing | Dooars (Chalsa) (West Bengal, India) | 110 km | 2.1/2 hours |
Tour Guides
All tours are escorted by well trained, knowledgeable guides who are certified by Tourism Council of Bhutan. All our trekking guides and cooks, undergo an additional mountain training, including safety and first aid. We generally provide English speaking guides however the services of Japanese, French, German, Chinese speaking guides can be provided with sufficient prior information and with an additional cost.
Food & Drink
Bhutanese, Indian, Chinese & continental dishes available at most of the tourist hotels and restaurants. There is a fair choice of restaurants in Paro, Thimphu, Punakha & Wangdue  but at other locations, most tourists eat in their hotels where hygiene is good and chefs temper the spicy Bhutanese dishes to suit Western tastes. Traditional Bhutanese food always features spicy red and green chillies, either dried or fresh.  The national dish Ema Datsi, a dish of ema (Chilli) cooked in datsi(cheese) is favourite among Bhutanese and a growing number of foreigners. Most of the tourist hotels provide meals in buffet style.
Rice is the staple (sometimes flavoured with saffron or of the red variety) apart from in central Bhutan where the altitude makes rice cultivation difficult. Buckwheat is more common here. The country is replete with apple orchards, rice paddies and asparagus, which grows freely in the countryside and there are over 400 varieties of mushroom including orchid mushrooms.
The most popular drink is tea, sweet or Tibetan style with salt and butter. Ara is a spirit distilled from rice. Chang (a kind of beer, cereal-based and generally home-brewed) is widely used by locals. Tourist hotels and restaurants have good selection of international and Bhutanese beverages.

Tourist Season
Bhutan is year round destination however  climatically better months are Mar, April, May, September, October & November. Also there are several festivals taking places in these months offering an added attraction. Winter in Bhutan is from mid Novermber to mid March and at this time of the year, climate is dry and sunny for the most parts with perfect blue sky & temperature peaking at 15 degree in daytime and falling below zero at night. The monsoon usually arrives in mid June, with rain mainly falling at late afternoon and nights.

Climate     
Geographically, Bhutan is a land of dramatic contrast.  From the near tropical southern border with India, steep slopes climb to snow-capped heights of over 24,750 feet / 7,500m at the northern border with Tibet.  Consequently, temperatures vary greatly between day and night and at different altitudes, so layered clothing for changing conditions, is recommended for travelers. In the central valleys, the summer rains are not as heavy as in the south and occur mostly in late afternoon and at night.  From mid-May to the end of Aug, the weather is warm at night (60-64F/17-18C) and in the day (72-78F/22-26C).  In winter, the sky is bright and it is sunny but cold, especially when the sun hides behind the mountains in the mornings and evenings.  At night, the temperature falls below zero.  Spring and Autumn are very pleasant with warm days and cool nights.

AVERAGE TEMPERATURE: (In Degree Celsius)

PLACES
JAN

Max


Min

FEB

Max

Min

MAR

Max

Min

APR

Max

Min

 

MAY

Max

Min

JUN Max

Min

JUL

Max

Min

AUG

Max

Min

SEP

Max

Min

OCT

Max

Min

NOV

Max

Min

DEC

Max

Min 

 

PARO

12.8

1.4

 

14.9

3.3

 

17.6

5.7

 

20.1

9.1

 

22.5

12.6

 

24.5

15.7

25.4

17.9

 

 

25.2

17.4

 

23.5

15.4

 

20.4

11.0

 

15.8

6.3

14.0

2.6

 

 

THIMPHU

14.6

-3.3

15.8

-0.7

18.2

3.0

20.7

6.7

22.8

10.9

24.4

14.6

24.8

15.9

25.1

15.4

23.8

13.6

21.2

8.0

18.3

2.2

16.0

-2.1

 

PUNAKHA 

17.5

5.8

19.3

8.1

22.2

11.2

24.9

13.8

27.3

17.2

29.2

19.3

29.1

20.1

28.9

19.0

27.9

18.1

25.6

15.6

22.1

12.1

18.9

7.5

WANGDUE
17.8

5.5

19.4

8.1

22.7

10.8

25.5

14.4

27.3

17.8

28.2

20.3

27.6

20.9

27.9

20.6

27.1

19.5

25.6

15.1

22.4

10.5

19.5

6.0

 

BUMTHANG

 

11.0

-4.2

 

12.5

-1.3

 

14.8

1.9

 

17.1

5.7

 

19.4

9.4

 

21.7

12.9

 

22.5

14.3

 

22.4

14.3

 

21.1

12.3

 

18.0

6.6

 

15.1

1.6

 

 

12.6

-3.6

 

MONGAR

16.1

6.0

18.6

7.9

21.5

11.2

24.0

13.6

25.7

15.8

26.6

18.0

26.8

18.5

27.8

18.3

26.8

17.1

24.4

13.7

20.7

10.0

17.7

7.2

 

TRASHIGANG

13.6

2.5

15.6

4.6

18.8

7.3

21.1

10.4

22.7

13.3

23.7

16.2

24.3

17.0

24.8

16.8

23.9

15.5

21.7

11.2

18.2

7.2

15.4

3.9

TRONGSA
17.5

5.6

19.3

6.2

22.3

10.4

23.9

13.5

23.6

14.5

24.7

17.2

25.9

18.2

26.6

17.1

25.0

17.1

22.3

13.4

19.3

9.7

18.0

7.2

PHUENTSH-OLING
23.9

16.2

26.5

5.1

29.5

18.2

31.1

6.3

32.4

20.9

32.6

10.1

31.9

23.1

32.6

11.9

31.6

24.8

31.2

15.6

28.3

26.0

24.9

17.2

Samdrup-

Jongkhar

21.0

9.5

22.9

11.5

25.3

14.3

26.2

16.3

27.6

18.6

28.5

20.6

28.8

21.1

29.4

21.2

28.6

20.1

28.1

15.9

25.9

14.1

23.0

11.1

Trashi-

Yangtse

12.3

3.6

14.8

6.2

16.7

8.2

19.8

11.1

22.2

14.2

23.2

17.0

23.7

18.5

23.6

17.9

22.4

16.5

19.9

12.3

16.5

8.1

13.2

4.1

 
Health Information
No vaccination is currently required for entry into Bhutan . However if you are arriving from an area infected with yellow fever, you are required to have a yellow fever vaccination. If you are arriving from Cholera infected area then officials may ask for evidence of Cholera vaccination. Anti –malarial medication is recommended for all travelers to Bhutan who are visiting rural areas in the districts that border India.
It is suggested that you assemble a traveler's medical kit appropriate to destination, length of trip and general health. On a tour in Bhutan, there are long drives, and roads are winding so medication for motion sickness is strongly suggested. You should also pack an adequate supply of any prescribed medications you may require while traveling. Travelers who plan to visit Bhutan, should consult a physician about high-altitude travel. Though, most people do not suffer from altitude sickness but elderly travelers or those with high blood pressure or heart condition need to exercise caution at high altitudes.
Custom & Immigration
Visitors are required to fill up the Custom Form and hand over to concerned authorities on arrival. Following articles are exempted from duty :
a). Personal affects and articles for day to day use by the visitor
b). 2 litres of alcohol, 400 cigarettes, 150 gms of pipe tobacco
c). Instruments, apparatus or appliances for professional use
d). Photogrphic equipment, video cameras and other electronic goods for personal use .
The articles mentioned under c) & d). must be declared in Custom Form. If such items disposed off in Bhutan by sale of gift, they are liable for custom duty.
Bhutan is non-smoking country and smoking at public places is prohibited however tourists can smoke inside their hotel room.
Import and Export of following goods are strictly prohibited :-
a). Arms, ammunitions, explosives and military stores
b). All narcotics and drugs except medically prescribed drugs
c). Wildlife products, especially those of endangered species
d). Antiques
Also visitors are advised to be cautious in purchasing old and used items. Custom authorities will not allow any old / used items to be taken out of the country if they have not been certified as non-antiques. Imports of plants, soils etc. are subject to quarantine regulations. These items must be cleared on arrival.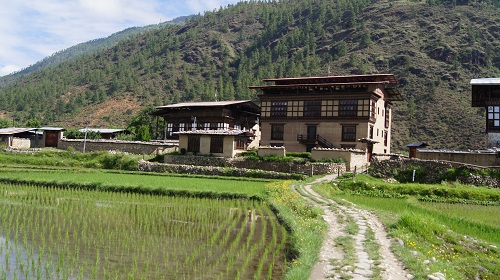 Clothing and Accessories
Comfortable clothing and sturdy, soft-soled shoes are essential for travel in Bhutan. Warm clothing is recommended ; and except for summer months, down jackets and woolen sweaters are suggested. In summer, heavy cottons and lightweight woolens will be acceptable. Altitudinal differences account for a wide range of temperatures from day to night, the year round. It is, therefore, suggested that clothing be layered so that you can adapt to the changing conditions. While visiting temples and other religious institutions, dress modestly and respectfully. Slacks are more appropriate for men and longer – length skirts are more appropriate for women. Shoulders must also be covered when inside religious buildings. Please keep in mind that shoes must be removed when entering temples. It is, therefore, suggested that you carry a pair of socks to wear inside religious buildings. The following is fairly exhaustive list of what you should pack for the trip ; clothes as per season, sunglasses / spare glasses, pair of casual shoes, knife, hat, umbrella, insect repellent, hand cream, small sewing kit & safety pins, torch or flash light with spare batteries, mirror, scissor, sun cream, lip salve, soluble aspirin, antiseptic cream, anti-histamine cream, anti-diarrhea pills, a preparation for the relief of sunburn and any medication you take regularly.
Camping Equipment Whilst on a trek
Whilst trekking you are provided with foam mats but we recommend you bring a self-inflating mat pack called Thermarest. This packs up small but when inflated gives very good insulation and is more comfortable than a single closed-cell foam mat. We do not recommend that you bring an airbed. You should also bring your Sleeping bags which should be 4-seasons bags as the temperature will decrease especially at 4,000m camp sites.
Communication
Bhutan has an efficient telecommunication system and all districts are well connected with telecommunication lines, fax and cellphones.  All tourist hotels have facilities of international dialing, fax, internet and majority also provide Wi-Fi services. There are internet cafes at all important cities and tourist destinations. For tourists, it is also possible to arrange local SIM and data card. The satellite earth station in Thimphu was installed in 1990 along with a sophisticated international telephone services and now direct dial calls go through quickly and clearly. Bhutan's country code is 975.
Apart from BBS, the state owned TV station, there are enough number of TV service providers, offering access to international and Indian channels. Travelers can send mail from hotels and post offices and this mail service is quite reliable. DHL provides efficient courier service to and from Bhutan.
To use your cell phone in Bhutan, it must have GSM technology in order to tap into the local network. If you plan on bringing the phone that you use on a daily basis at home, PLEASE CHECK WITH YOUR SERVICE PROVIDER to determine charges for both outgoing and incoming calls and texts. You can also consider carrying an old phone that is 'unlocked' and have GSM technology in order to tap into the local network and then purchase a local SIM card. When you add the new SIM card, this phone will be assigned a phone numbers which you can share you with your family to call you directly on that number. Our local office will help you in procuring local SIM card.
The above also applies to iPads with 3G. If you are under contract to an internet provider at home you will probably not be able to change out the SIM card in your iPad. The iPad must be "unlocked" in order to use the 3G capabilities without paying huge roaming fees.
Photography
Bhutan's landscape, buildings and people are some of the most photogenic in the world. While photographing local people, it is always better to take permission first. There are certain places such as monasteries and temples, where photography is prohibited however there is no restriction on photographing Dzongs and Goembas from outside. If you are uncertain about whether or not photography is permitted, please check with your local guide. You should refrain from taking pictures of military installations.
Media in Bhutan
Bhutanese media is fairly young and its role in growth of modern society began only in mid 1980s, with the establishment of the first Bhutanese newspaper, 'Kuensel' and the launch of Bhutan Broadcasting Station. Today, Bhutanese media has grown considerably in all its forms – print, broadcast, film, music and internet.
As of now, there are 11 newspapers (7 in English and 4 in Dzongkha) in the country, that includes Kuensel, Bhutan Times, Bhutan Observer, Bhutan Today, Business Bhutan, The Journalist, The Bhutanese, Druk Neytshuel, Druk Yoedzer, Gyalchi Sarshog, Druk Melong  and five radio stations that includes BBS Radio, Kuzoo FM, Radio Valley, Centennial Radio  and Radio Waves. There are various publications also now ranging from news such as Drukpa, Voyager travel magazine to entertainment magazines that includes Yeewong, Druk Trowa, Student Digest  and Bhutan Timeout.
Television was introduced in the country, in year 1999 and at present BBS TV is the only television channel that caters local news and programmes in Bhutan. The BBS launched its satellite television service in February 2006 and is now available in more than 40 Asian countries. Cable television services are also available in Bhutan which covers almost all part of the country. While the film industry is still in its infancy, the number of Bhutanese films has been gradually increasing with more people venturing into the industry. In recent years, social media also has gained tremendous popularity.
Electricity
In Bhutan, electricity runs 220 / 240 volts, with mostly a circular two‐pin and three‐pin power outlets. If you do bring electrical appliances, take along an international converter kit complete with a set of adapter plugs.
Shopping
Even though shopping and handicrafts industry in Bhutan is relatively small due to limited number of tourists but there are impressive set of genuine items appreciated by travelers ranging from postage stamps, lovely hand-woven fabrics, carved masks, woven baskets, thangkhas, wooden bowls, handmade paper and finely-crafted metal objects. In Bhutan, the buying and / or selling of antiques is strictly forbidden.
Laundry
Laundry service is available in most of the hotels. However, it is advisable to check the hotel's individual laundry return policy before choosing to have laundry done.
Travel Insurance
Our tour package cost does not include travel insurance in Bhutan and we highly recommend all travelers to obtain comprehensive medical and  travel insurance policies from your home country for any unpredictable circumstances.
Money
Bhutanese currency is Ngultrum (Nu.) and is officially pegged to the Indian Rupee (Rs.). Also Indian Rupee is acceptable all over Bhutan.
Credit Cards have limited acceptability and payment through credit card is accepted mainly by Deluxe hotels and few selected Handicrafts establishments only.
There are ATMs at major tourist towns and travelers can withdraw local currency via Visa & Master Card, Debit cards & Cirrus/Maestro endorsed bank debit cards. Though at ATMs, you can withdraw small amounts only that too in single transaction so Traveler's cheque / cash are best option, if you need additional money.
Gratitude
Tipping is not compulsory for tour, nor there is any fixed amount for this. Nevertheless the bottom line in determining whether and how much to tip is to ask yourself how much the individual contributed to make your travels more enjoyable.
Tobacco / Smoking
The Tobacco Control Act of Bhutan  was enacted by parliament on June 16, 2010. It regulates tobacco and tobacco products, banning the cultivation, harvesting, production, and sale of tobacco and tobacco products in Bhutan. The act also mandates that the government of Bhutan provide counseling and treatment to facilitate tobacco cessation. Premised on the physical health and well being of the Bhutanese people – important elements of Gross National Happiness – the Tobacco Control Act recognizes the harmful effects of tobacco consumption and exposure to tobacco smoke on both spiritual and social health.
In Bhutan, the consumption of cigarettes / tobacco is prohibited at public places. Tourists need to declare the cigarettes / tobacco at the airport and pay 200% tax upon which they will be given a official receipt Smoking is not allowed in public places but at designated smoking areas only.
Time Zone
Bhutan has only one time zone. It is six hours ahead of Greenwich Mean Time (+6 GMT), half an hour ahead of India (IST) and one hour behind Thailand. Bhutan is eleven hours ahead of New York city.
Language
Dzongkha is national language of Bhutan. English is also a medium of communication and widely spoken. There is enough opportunity to interact with locals in English especially at Urban areas and enhance your knowledge on Bhutan.