Trashigang & Trashigyantse- Tourist Destination in Bhutan
In the far east of Bhutan, on the bank of Gamri Chhu river lies Trashigang, the country's largest district. Trashigang, once the centre of a busy trade route with Tibet, is today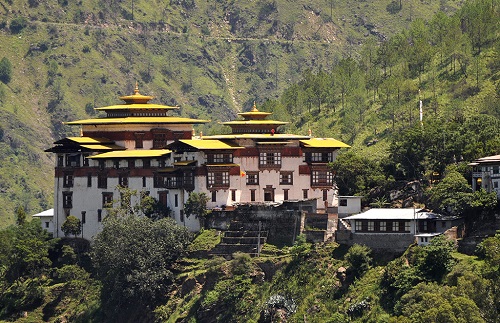 the junction of east-west highway with road connecting to Samdrup Jongkhar and then to the Indian States of Assam. This town is also used as the market place for the semi nomadic people from Merak and Sakteng whose costumes are unique in Bhutan.
Places of Interest in Trashigang (Altitude 1,100m)
Trashigang Dzong
Built in 1659, the Dzong serves as the administrative seat for the district as well as the home of the monk body. The Dzong commands a remarkable view over the surrounding countryside.
Gom Kora 
24 km from Trashigang, the temple of Gom Kora is set on a small alluvial plateau overlooking the river. Surrounded by rice fields and clumps of banana tress, it looks like an oasis in an arid landscape. It is one of the famous places where Guru Rinpoche meditated in order to subdue a demon who dwelt in a huge black rock.
Trashiyangtse (Altitude 1,700m)
Trashiyangtse is a small village with a garden aspect and a lovely place from where to launch a couples of hours stroll into surrounding countryside. The Dzong was built in the later 1990s when the new district was created. A very interest art school is worth the visit. Also Trashiyangtse is famous for its wooden containers and bowls.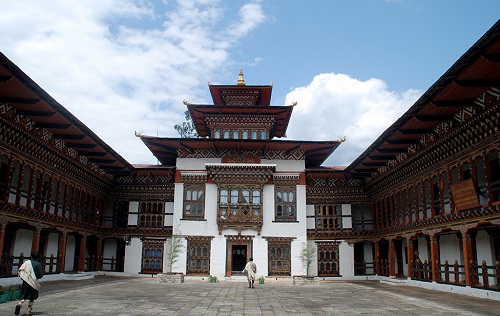 Places of Interest in Trashiyangtse
Chorten Kora
Constructed near the river, it is based on the stupa of Bodhnath in Nepal and was built in 1740 by Lama Ngawang Loday. During the second month of lunar calendar there is an interesting celebration here, known as 'Kora'.
Bomdeling
About one hour walk from Chorten Kora, Bomdeling is the winter resting place of a flock of black-necked cranes.