Gross National Happiness
"Gross National Happiness is more important than Gross National Product"
– His Majesty Jigme Singye Wangchuck, the Fourth King of Bhutan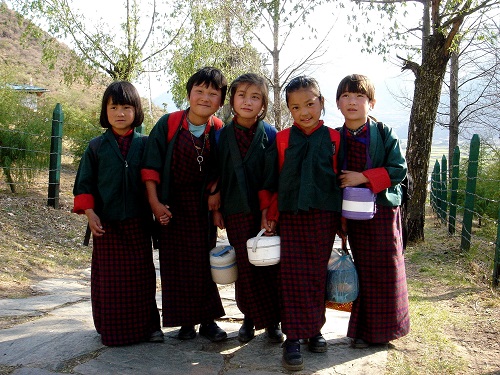 The phrase Gross National Happiness, as the guiding  philosophy of Bhutan's development process, is coined by His Majesty the
Fourth King of Bhutan, Jigme Singye Wangchuck, soon after his enthronement in 1972. The concept implies that sustainable development should take a holistic approach towards notions of progress and give equal importance to non-economic aspects of wellbeing. It represents a commitment to build an economy that would serve Bhutan's culture based on Buddhist spiritual values and principles  instead of material development gauged by gross domestic product (GDP). The GNH policy now serves as a unifying vision for Bhutan's five-year planning process and all the derived planning documents that guide the economic and other development plans of the country.
Bhutan considers GNH as offering a more rational and human approach to development :
GNH stands for the holistic needs – both physical and mental well being
GNH seeks to promote a conscious, inner search for happiness and requisite skills which must harmonize with beneficial management and development of outer circumstances
GNH recognizes that happiness should not be approached or viewed as yet another competitive good to be realized by individual. It supports the notion that happiness pursued and realized within the context of greater good of society, offers the best possibility for the sustained happiness of individual.
GNH, as happiness is the most common yearning of the electorate both individually and collectively and as it transcends ideological or contentious values, public policies based on GNH will be far less arbitrary than those based on standard economic tools.
The four main pillars of Gross National Happiness are :
Equitable and equal socio-economic development
Preservation and promotion of cultural and spiritual heritage
Conservation of environment
Good Governance
 Lately the four pillars have been further classified into nine domains in order to create widespread understanding of GNH and to reflect the holistic range of GNH values. The nine domains are:
Psychological wellbeing
Health
Education
Time use
Cultural diversity and resilience
Good governance
Community vitality
Ecological diversity and resilience
Living standards
The domains represents each of the components of wellbeing of the Bhutanese people, and the term 'wellbeing' here refers to fulfilling conditions of a 'good life' as per the values and principles laid down by the concept of Gross National Happiness.