Bhutanese Cuisine
Bhutanese cuisine, though quite interesting has not yet captured the taste of connoisseurs of food worldwide and its relatively low awareness & popularity failed to draw the attention of writers and critics. But the recent findings show that few international restaurants at times had two most popular Bhutanese dishes ;'Ema Datsi' (chilli curry cooked with cheese) and 'Phaksha Paa' (dried pork dish)on their menu which points to the fact that it has its share of its enthusiasts. For appreciating Bhutanese cuisine one should like hot, spicy food, meat fat and dried meat. However, the greatest passion of Bhutanese are chillies and the national dish 'Emadatsi' is made of chillies braised in salt, butter, onion, water and 'datsi' – a local cottage cheese made from buttermilk.  
Though Bhutan's most particular predilection is the Chilli. It is hard to believe that it is not indigenous to Bhutan but came from India. The number of ways in which locals use chillies or chilly power in their cuisine defies imagination. Some of the quite popular mouth burning yet mouth watery dishes made of Chillies are : Chilli-spiked 'Ezay' which resembles the Mexican 'salsa'. Ezay comprises chopped chillies, onions, cilantro, tomatoes and cheese. This is taken with fried rice for breakfast. The other is raw chillies dipped in salt and served with spring of green onions. An average Bhutanese family uses more than two or three dozens of Chillies in a day. Along with liberal doses of Chillies, they consume equally massive proportion of rice, taken with various stews and curries. Bhutan is a rice eating country and there are various types of rice in the country ; white of southern Bhutan, red of Paro and few other districts and yellow of Kharung – eastern Bhutan.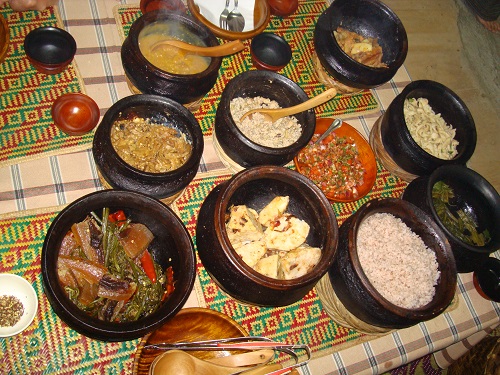 Other grains grown in certain areas of Bhutan, generally those of high Himalayas, include buckwheat and barley. In central Bhutan, where the buckwheat is the special diet, delicacies made out of it are buckwheat noodles called 'Puta' and buckwheat 'momos' called 'hontay' which are filled with cheese (datshi) and vegetable such as spinach.

Curry which is taken with rice contains little meat or small bones. Bhutanese particularly like fresh pork or even better, dried. Beef and chicken are the second choices while mutton and lamb eaten in small quantity. 'Pa' which is preferred to standard curry is made with large chunks of beef or yak meat, chilli, radish and spinach. Bhutanese love for meat is evident from the sight of beef or yak meat strips drying on lines or hanging from windows.
In Bhutan, drinking milk is not a common habit and traditionally, milk has always been turned into butter and cheese called 'Datsi'. This cheese is not eaten raw but used to make sauces in which vegetables and meat are cooked. 'Churp' is another unbelievably hard cheese, make in yak breeding areas. The third kind and the most sought after cheese comes from eastern Bhutan called 'Seudew' which is not eaten raw but mixed in small quantities into soup.
Locals drinks plenty of tea also either with milk and sugar called 'nadja' or 'seudja' – tea churned with salt and butter. The most polular local drinks is 'ara', made from wheat, barley, maize, buchwheat or rice. Chang is almost a national drink of Bhutan and consumed on a broad spectrum of occasions.     
Here are few popular local dishes and their preparation method :
Emma datshi – the national dish of Bhutan(Chili 'n' Cheese)

Dry Red Chilli with Cheese
Ingredients :
Dry red chilli – 50 gms
Onion – 1 bulb
Oil – 2 tbs
Salt for taste
Water – 1 / 2 cup
Cheese – 30 gms
Preparation :
Cut chilli, add oil, salt and water
Cook for about 1 minute and then add cheese and onion
Cover it and cook it for another 5 minutes
Mix curry well. It is best to keep stirring curry to mix the cheese evenly.
Green Chilli with Cheese
Ingredients :
Green chilli – 50 gms
Oil – 2 tbs
Salt for taste
Water – 1 / 2 cup
Cheese – 30 gms
Preparation :
Cut green chilli
Add oil, salt and cheese
Cover the lid and cook for 5 minutes or until the water is dry
Mix it well
Blenched Chilli with Cheese
Ingredients :
Blenced chilli – 50 gms
Oil – 2 tbs
Salt for taste
Water – 1 / 2 cup
Spring onion for garnish
Cheese – 30 gms
Preparation :
Cut chilli, add oil, salt and water
Cook for about 1 minute and then add cheese
Cover it and cook it for another 5 minutes
Mix curry well. It is best to keep stirring curry to mix the cheese evenly.
Cut the spring onion and add it  then mix it well
Kewa Datshi
'Kewa' means potato and 'Datshi' is cheese.
Ingredients :
4 potatoes
1 / 3 cup of Cheese (white cheese)
1 / 4 cup of chopped red onions
1 tbs oil
1 tbs salt
1 / 2 tsp chilli power (quantity can vary to your taste)
Preparation :
Cut potatoes into small pieces (preferably size of  little finger). Put the potatoes along with some oil and salt in a saucepan or pot. Add 1 and 1/2 cup of water. Cut the cheese into small pieces and when potato is almost cooked, add the cheese. You can add some chopped onions and tomatoes to taste. Also add the chilli powder. You don't want too much water in this dish but don't let it dry up completely either. Add little water .
Pork cooked with spicy red chillis. Radishes or Spinach can also be added to this dish.
Ingredients:
* one medium onion (about 4 ounces, 110 g), peeled and quartered
* Fresh ginger, peeled and cut into a 1 -inch (2.5 cm) cube
* one medium daikon or white radish (bout 31/2 ounces, 100 g), peeled, halved lengthwise, and cut crosswise to fit the feed tube
* one stick unsalted butter (4 ounces, 40 g)
* 1 pound boneless pork shoulder (450 g), cut into 6 by 1/2 inch (15 by 1.25cm) strips
* 1/2 cup water (120ml)
* 2 tablespoons chili powder
* 2 teaspoons salt
* 3 large heads bok choy [about 3 pounds total, 1.3kg], stems removed and leaves cut into 1/2-inch (1.25 cm) strips
* 6 ounces dried pork (170 g), cut into 3 by 1/2 inch (7.5 by 1.25 cm) strips
1 large fresh green chili pepper (about 1/2 ounce, 15 g), seeded and cut into julienne strips

Preparation :
Chop the onion coarsely with the metal blade of a food processor, about 4 pulses. Set aside. Drop the ginger through the feed tube with the motor running and chop finely, about 10 seconds. Set aside. Slice the daikon with the thick (6mm) slicing disc. Melt the butter in a large saucepan. Add the pork shoulder, onion, daikon, water, chili powder, and salt and simmer over low heat until the pork is just tender, about 1 hour and 25 minutes. Meanwhile, cook the bok choy in a saucepan of boiling water until tender, about 5 minutes. Drain. Add the ginger, bok choy, dried pork, and chili pepper to the stew and simmer over low heat until heated through, 5 to 10 minutes.
Kewa Phagsha (Spicy Prok with Potatoes)      
Ingredients :
350g of pork (thigh)
2 potatoes peeled
3 green chillies
1 / 2 onion
1 / 2  teaspoon chili power
3 cloves of garlic (crushed)
1 piece of ginger (finely chopped)
1 / 2 tea spoon canola oil
Preparation :
Chop pork in lumps. Add about 400ml of water in a sauce pan. Add pork and a bit of salt and boil for about 20 mins (Pork should be thoroughly cooked). Cut potatoes longitudinally in 6 or 8 pieces. Cut chilies longitudinally into 2 pieces each. Add chili, potato and onion and 1 / 2 teaspoons of canola oil. Cook until potato is 75 percent cooked. Add the remaining ingredients and cook for 3 – 4 mins. Stir…pepper or coriander seasoning to taste.   
Jasha Maroo (Bhutanese Minced Chicken)
Ingredients :
Boneless chicken – 500 gm
One large chopped onion
2 tbs finely chopped garlic
A tbs grated ginger
2 small chopped tomatoes
4 tbs chopped green chillies
Salt to taste
2 tbs vegetable oil
1 cup chicken stock
Preparation :
Heat oil in a pan 
Add the chopped onions and saute until soft and translucent
Add the chicken and fry for about 5 minutes
Add the chicken stock and bring to a boil
Now add the chopped garlic, grated ginger, tomatoes and chilies. Season well
Cook until chicken is tender and the liquids have been reduced. You can also add some chopped cilantro on top.
Turn up the heat

6. Puta (seasoned buckwheat noodles from central Bhutan)      
Ingredients :
4 cups of sieved buckwheat flour
1 egg            
Enough water to make a dough
Seasoning
4 tablespoon mustard oil
2 finely chopped green chilies
1 onion
A omelette using two well beaten eggs
3 cloves garlic
Fresh coriander & chives
Thi-ngay (sechuan pepper)
Salt to taste
Preparation :
Break egg over buckwheat flour and add water. Knead into a smooth dough and pass through a noodle press. Immerse the noodles in boiling water for 5 minutes. Stain and dip in cold water. Leave aside to train.
Heat mustard oil and add chopped onion, chilies, garlic, coriander and chives. Saute and pour over noodles. Add salt to taste and a pinch of thi-ngay. Cut omelette into strips and use them to garnish noodles. Serve the noodle with fresh yoghurt.
'JANGBULI '– The Bumthap Noodle
'Jangbuli' is a famous Bhutanese dish that originated in Bumthang. Today, it is cooked in different regions of the country, however preparation method differs from place to place. One can also add egg or different meat items like chicken or beef as per one's liking. Jangbuli is considered as special dish and prepared mostly on festive and other important occasions.
Ingredients :
Flour, Black mustard seed (zimtsi), Wild pepper, Spring onion, Oil, Salt to taste, Chilli powder, Egg (optional)
Preparation :
Make  a fine dough from the flour
Roll it and cut it into strips
Blanch the cut dough
Heat oil in a pan
Fry the spring onion and add the blanched dough
Add black pepper
Add salt to taste
Add chilli powder
Mix it all well and it is ready to be served
Optional
If you prefer Jangbali with egg, pan fry them and mix it well with the above mentioned ingredients and it is ready to be served. This dish also goes well with curd.
'SEL ROTI' – Traditional Southern Bhutan bread)
Selroti (traditional southern Bhutanese bread) is delicacy of the south. It is a traditional homemade, sweet ring-shaped rice bread/doughnut prepared during Hindu festivals and other important occasions. It is served generally with Alu-Kopi (potato and cabbage) curry. Selroti is made mainly of rice flour, water, sugar, cooking oil and ghee.
Ingredients :
Rice flour : 2.5 pound, Water or milk : 500 ml, Ghee : 2 cups, Sugar : 2 cups, Cooking oil : 1 liter, Wheat flour : one cup, Cardamom : half table spoon, Cashew nuts : half table spoon, Baking soda : half table spoon
Preparation :
Wash and soak rice overnight, drain excess water
Mis ghee and sugar and grind into fine paste. The paste should be fine and greasy
Stir the mixture continuously
Cover it and leave at room temperature for 1-2 hour to melt and mix all the ingredients
Heat pan with cooking oil. The pan should be deep enough to float sel and the base should be flat
Watch for vapor / smoke from the oil or see the picking stick float on the oil
Pour the batter as continuous ring into hot oil till they become brown / golden
Confirm both sides are brown