Gangtey/Phobjikha - Tourist Destination in Bhutan
Places to visit in Gangtey/Phobjikha valley (Altitude 3,000m)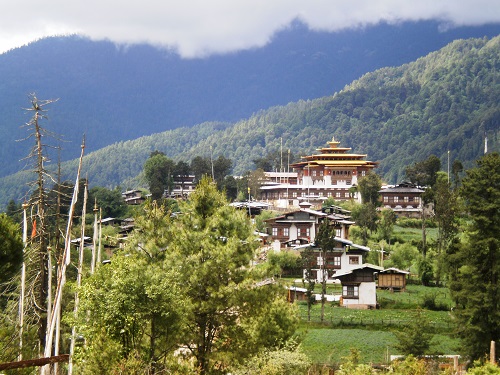 The valley of Gangtey is one of the most beautiful spots in Bhutan. The surprise of finding such a wide, flat valley without any trees after the hard climb through dense forests is augmented by an impression of vast space, and extremely rare experience in Bhutan where most of the valley's are tightly enclosed.
At 3000 metres, Phobjikha is one of Bhutan's few glacial valleys and a unique conservation area in the Black Mountians National Park. According to legend, its two streams called Black and White waters – one languid, the other vivacious, symbolize a snake and a boar who once raced through the valley. The snake lost and to this day, the rice he wished for cannot grow in Phobjikha. Only a scattering of hamlets betrays the human presence on the edge of vast wetlands, the winter grounds of black-necked cranes.
Gangtey Goempa
Perched on a small hill that rises from the valley floor, the Gangtey Monastery is the only Nyingmapa monastery on the western side of the Black Mountain's and also the biggest Nyingmapa monastery in Bhutan. The Monastery is surrounded by a large village inhabited mainly by the families of the 140 Gomchens who take care of the Monastery.
Gangtey was founded by Pema Trinley, the grand son of Pema Lingpa, the famous Nyingmapa saint of Bhutan. In 1613, Pema Trinley establish the monastery and became the first Gangtey Tulku. The religious traditions of Pema Lingpa still taught there. The second Tulku, Tenzin Legpa Dondrup (1645 to 1726), enhanced the size of Gangtey while keeping up good relations with Drukpas, and rebuilt the monastery in the form of a Dzong.